What happens if an affiliate program changes its domain or its backend system?
We can move the account from one program to another, so the affiliate doesn't need to lose data.
How do I change my password or credentials?
Changing your credentials is extremely straightforward, all you need to do is enter your account page, press Crawler and select Edit.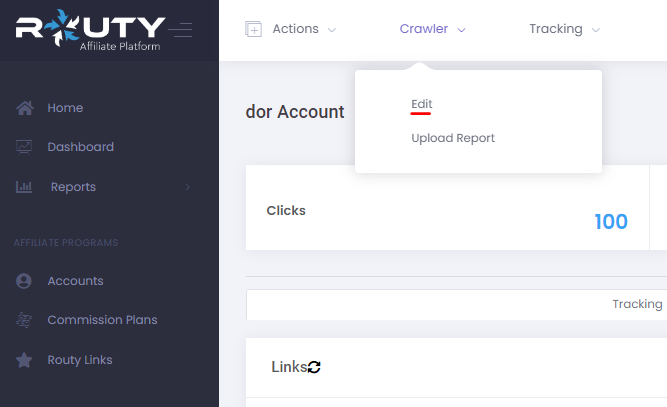 I'm trying to add an affiliate account but I can't find the affiliate program?
Routy covers over 500 affiliate programs and over affiliate 40 backend systems. However, there are new affiliate programs starting every month. If Routy doesn't cover an affiliate program you're working with, please let us know by creating a ticket here.
If we have already integrated the backend system, adding the affiliate program can be done within a few days. However, if the backend system is not covered by us, we will need to check if they support postback tracking - otherwise it will need to be integrated into our development pipeline.
Why is the Add button is not working in the Accounts section?
Different plans have different limits of accounts you can add. If you cannot add a new account, you may need to upgrade your plan to add more accounts. To check your account limits, use the Quick Actions button in the top right of the product. Here you can see the Limits button, that will show you the percentage of traffic sources, accounts, clicks, pixels, webhooks and views you've used up so far.